Balliol College Archives & Manuscripts
Archives staff
Anna Sander, college archivist and curator of manuscripts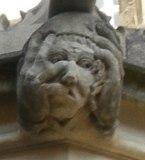 Anna has held the full-time post of college archivist and curator of manuscripts at Balliol since October 2004. Her work relocated with the collections in 2010-11, and is based in the Historic Collections Centre at St Cross Church, Holywell, next to Balliol's graduate student centre at Holywell Manor.
The post's original title of Lonsdale Curator of Archives and Manuscripts was named in honour of Professor Roger Lonsdale, FBA, Fellow Emeritus of Balliol.
Anna looks after the (mostly) manuscript special collections: the college archives, medieval manuscript books, and personal and family archives (modern papers). Her main responsibilities are: responding to college and external enquiries; liaising with, invigilating and assisting visiting researchers; arranging and describing the collections (listing and cataloguing); preservation; digitisation; training and supervising students and volunteers working in the collections; and designing and maintaining this website and related online presences - facebook, blog, twitter, flickr.
She regularly supports academic teaching based on the archives and manuscripts, and provides training to students on the structure and history of western manuscripts, correct handling of archival materials, and planning archival research. She founded and coordinates the Unlocking Archives seminar series (2013 - ) and related displays on current research in Balliol's special collections, and presents talks, tours and exhibitions about the building and the collections at St Cross to college, school and community groups. Balliol is a member of the Oxford Conservation Consortium, and Anna works with the conservators to plan conservation work on the collections as well as loans and exhibition administration, environmental monitoring and emergency response planning for St Cross.
Anna is an active member of the Oxford Archivists' Consortium and is on the Management Committee of the Oxford Conservation Consortium. She is a member of CILIP and AMARC.
Anna holds a BA (hons) in English Literature and Medieval Studies from her home town University of Victoria (Canada), an MPhil in Medieval Studies from the University of York (UK) and an MScEcon in Archive Administration and Records Management from the University of Wales, Aberystwyth. She trained at York Minster Archives and worked after qualifying as an archivist at Aberystwyth and the University of Glasgow before coming to Balliol.
Follow Balliol Archives & Manuscripts: