Balliol College Archives & Manuscripts
HOME> Archives and Manuscripts > News
Balliol's Historic Collections Centre in St Cross Church, Holywell
Balliol will celebrate its 750th anniversary in 2013. A leading force in the University since about 1825, its fame has been international for well over a century. As a consequence of its antiquity and reputation, it has acquired outstandingly rich and varied Historic Collections comprising medieval manuscripts, many early and rare printed books, and notable holdings of modern literary, scientific and political papers, besides its own extensive archives. These collections span more than eight centuries, and are part of the National Heritage.
Balliol has, after much fruitful discussion with the Oxford Diocesan authorities, and enabled by initial generosity from The Shirley Foundation and others, acquired a 999 year lease and licence for St Cross Church Holywell, restored the Grade I listed building and converted it to an Historic Collections Centre, while preserving the Chancel for occasional services.
All Balliol's own archives of eight centuries, its mediaeval manuscript treasures, and its rich modern papers collections, together with many early printed books, are now (as of October 2011) housed and made available in the Centre. The conditions in which these treasures are kept are much improved, and they will are more easily available to researchers than they were on the Broad Street site.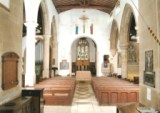 The Church of St Cross in Holywell is one of the oldest buildings in the City of Oxford: the surviving Chancel arch was built about 1180. The Church, which had been little used for many years, is directly contiguous with, and historically closely related to, Holywell Manor, which is now the home of Balliol's flourishing Graduate Centre. The small congregation and church authorities had no money for repairs and maintainance, and for some time had been looking for someone to restore it and put it to a dignified secular use which could be combined with occasional access for services to be held in the Chancel.
The main works began on 4 January 2010 and were completed a year later, and the collections were moved in during 2011.
Photos of work in progress on Flickr
No burials have been disturbed and no memorials have been moved. Full conservation work has been undertaken, not only on the building's structure but also on the stained glass and painted ceilings.
Access to the collections was suspended and our enquiry service limited during the moving period, January - September 2011, with updates posted regularly online. The period of reduced or closed service was minimised as far as possible; a major purpose of the project after all is to make the College's treasures more easily available.
Planning for the project involved research and recording of the stained glass and the memorials inside the Church and in the ancient Churchyard ; detailed notes on the stained glass and memorial inscriptions are available . A detailed illustrated account of the history of the Church and its people is now out of print, but is available online in print-ready PDF format here.
The project is being led for the College by me. I shall be very pleased to provide further information to anyone who is interested.
John Jones
Photograph © by Mark Bassett, 2009.
Reproduced with permission.
Contact Details
Dr John Jones, FRHistS
Emeritus Fellow
Balliol College, Oxford OX1 3BJ
Email: john.jones@balliol.ox.ac.uk